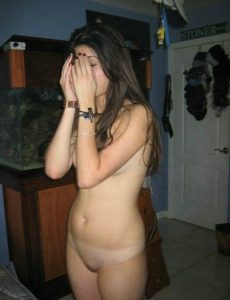 Radhika joined as a fresher in my team recently. She was slim, tall and had a perfect body. In her early twenties, fresh out of college; she looked cute and sexy. As a project was to be delivered in a short span of time, I asked my team members, who can help me on Saturday to complete it? Radhika excitedly volunteered to come and help me. Working on a Saturday is of course boring but company of a hottie was the compensation for it.
As I reached the office in morning, Radhika had already arrived. In a tight skirt and t-shirt, she looked hottest ever. I said, hey beautiful, you look hot and sexy. I always maintained a decorum in office but her round boobs covered in the tight t-shirt and her slim, white and long legs were enough to motivate me to break the decorum. I was not expecting a solid reply as she was quite and shy but I was wrong.
She replied "oh really boss?" I said "yes, ofcourse. Hope you are not going to sue me for this."
She asked boldly " what are you going to do today, which can be a reason to sue you". I checked all around the office to be sure that no one is there. I took her hand in my hand and said "lets work and finish the project". She laughed and replied "which project, btw you look handsome too?" I said lets go in the conference room and discuss the project." she followed me there.
While explaining her the project, I used every opportunity to touch and brush her. She seemed to desperate to have fun. She changed the topic and asked with a naughty smile" You didn't tell me, what are you going to do today to make me sue you". I took her hand in mine and pulled her in my arms. Her tight boobs were touching my chest now, my tool was erect and I bit her on the lips. She again grinned and said " I can forgive you for this". I latched the room and put one of my hand on her thighs and one inside her t-shirt, squeezing her boobs. She unzipped my jeans and started playing with my dick. I helped her in taking it out. She suddenly screamed and said "Its a monster". I asked " are you going to sue this monster today?" she said " "I will forgive him too if he fucks me hard". As she was busy in playing with my long black dick, I opened her skirt and t-shirt. My god, she was silky, white and had awesome body. She was wearing a lacy thong and matching bra. Her boobs were as round as earth. Her bums were as great as the moon. I made her tilt on the table and spanked her naked bums, saying " Your punishment for not let me complete the project." In just one spank, her bum turned red and I made her more red by spanking more. She was moaning with my spanks. I unhooked her bra and stared squeezing her round, perfect boobs. I sucked them both with my tongue. She asked me "How do you find my body" I laughed and said, "I will make you naked daily now." She sat down and took my dick deep inside her throat. What a whore she was to suck it deep. I removed her panty too and as soon as I did it she said " I knew you are going to fuck me today so I got it waxed" I said" let me taste your yummy pink baby" She said "oh yes" I licked, I sucked and her moans were making me suck and lick it more and more" What a great fragrance it had. I asked her " how many times, have you been fucked" She said " you check and tell". I inserted my middle finger in her pussy to check the tightness. She asked "tell me na" I said " one" she nodded her head" I said " let me check it with my dick. In reply she laid on the table and spread her leg and said " come boss, check it" I pushed my dick in her pussy. It was as tight as a virgin pussy. She shouted, deep inside boss. I started pumping her deep inside the pussy. My hand were squeezing her boobs, which had the most beautiful pink nipples. She was moaning loudly and screaming to fuck harder. I put my one finger in her ass and started fucking from both front and back. Juice was dripping from her pussy. She made me to lay on the table and turned women on top. She was fucking me hard. I was sucking her boobs, spanking on her bums and enjoying the moment, which was like fucking a sweet college girl. She fucked harder and screamed, cum fast….fuck..fuck, oh fuck…I obliged her. She hugged me tight and said "Be ready for next session fast, or I will sue you, I will fuck you".